I was going to make those barrettes today, I swear. But, as usual, life got in the way. I first discovered this yummy treat when a former co-worker's wife made them and he brought them to work. Ever since, I've been making them every year for the family 4th of July bash. Because the family is so large, I do double the recipe, making half with milk chocolate, and half with white chocolate. They're the perfect combo of sweet and salty.
This holiday season, I was tipped off that a nice coming in from out of town was wondering if I'd make these. Her mom told her it's a July thing, but I made her a personal batch (in Christmas colors) that will go under the tree tomorrow night.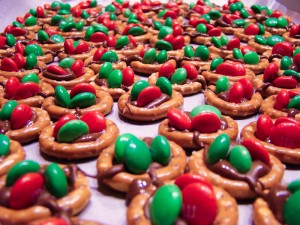 Ingredients
1 large bag Milk Chocolate M&Ms
1 bag Jewel/Shopper's Value pretzel rings (I've only found these in the store brand)
1 bag milk or white chocolate chips
Directions 
Place a sheet of wax paper on two large cookie sheets. Spread pretzel rings flat, filling about one and a half sheets.
Put about ¼-½ cup of chocolate chips in a pastry bag.
Microwave at 30 second intervals, massaging bag inbetween, until chips are melted smooth.
Squeeze melted chocolate into the rings. Do not overfill.
Quickly add 3 M&Ms to the melted chocolate in each ring.
Repeat for remaining rings chips.
Refrigerate to set chocolate. Best kept refrigerated until serving.