HO-LEE-COW!
Back when I was 10 years old, I spent a very long summer dealing with an unknown illness (now that I think of it, that seems to be a theme with me) that we eventually found out was Crohn's disease (I'm all good – it's manageable and a story for – maybe – another day). Anyway, being sick and at home, there wasn't a lot on TV for me to watch during the daytime. I don't even remember what daytime TV was like back in the early 80s, but in the summertime, most days, there was a good chance that come 1:20 pm, there'd be a Cubs game on TV, and I watched 'em all (or at least, dozed with them on in the background). I knew the players by face, all their stats, the batting order, you name it. I had the biggest crush on Ryno! I don't think I'd even been to a game yet, but I was as die-hard as they come that year. Growing up on the north side of Chicago, I was geographically predisposed to being a Cubs fan (how my brother ended up primarily a Sox fan is still beyond my comprehension). I always rooted for our Cubbies with games called by Jack Brickhouse and later, Harry Cary. We had our few shining moments and great players scattered about, but for the most part, they were lovable losers with the most loyal fan base. Since 1908, Cubs fans have believed in Next Year, but I don't know that any of us really thought we'd ever get back to the World Series. I didn't love them any less, but I just never imagined it'd happen in my lifetime. It smacked of goals unattainable.
I'll admit that I lost interest in baseball as I grew older. Though any time I had a chance (and there have only been a handful) to go to a Cubs game at Wrigley, I sure didn't pass it up. And it wasn't until the playoffs this year that I really started paying attention again. It was certainly with renewed excitement for the Cubbies that I went out and got a special pedicure the day before game 1 of the World Series.
When I posted the photo on Insta-face, my brother accused me of bandwagon jumping. Yes, I did get defensive and jumped down his throat about his ever-changing allegiances to teams of various sports – at least in the lull of my attention, I never professed to love another team besides the Cubs (and yes, I love my bro as well), and when I thought about it, and how much I was enjoying watching the games, I decided that whatever the outcome of this series, I'd watch more broadcast games next season. You see, I realized that I didn't just love watching our team win – I love the simplicity of the game. Sure, there are a few things I don't get (I'm no expert), but between the leisurely pace of America's favorite pastime and the internet at my fingertips, I can make sense of any confusion PDQ. So, as we watched the games with The Girl, and she asked questions about the game and the players, I was the one answering her. I was the one embellishing my explanations with bits of trivia – things remembered and things I'd recently read. Since the games ran so late, she didn't get to stay up and watch to the end, but each morning when she woke up, she'd ask me if we won.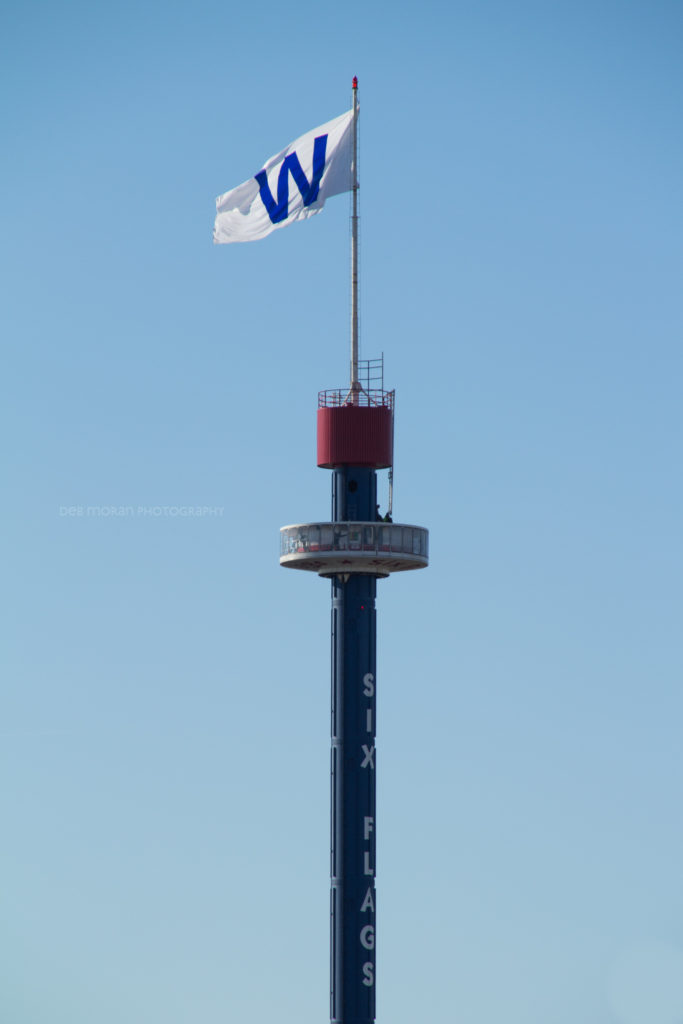 Last night was no different. After all, it was a school night. But it was different. For a while, I just kept thinking how unreal it seemed that the Cubs were playing (and winning) GAME 7 of the WORLD SERIES. I was afraid to voice the thought, lest the whole thing go poof!  Still, The Girl may have gone to bed long before the end of game 7 last night (it was, after all, a school night), but I didn't stop commenting throughout the game, both to Hubs and the Facebook collective. Who could keep quiet with such a nerve-wracking game?! At one point, I said that my bone marrow biopsy didn't make me as anxious as this! And it certainly didn't take as long either! Because, of course, we couldn't win so easily. There were two great teams playing in this match-up, and the Cleveland Indians did have home field advantage. They gave it their all, delivering a big scare when they started getting runs and tied the game. I swear my blood pressure spiked and my IBS flared a bit. But, on Facebook, so many of us were commenting and cheering together – I even bonded with frenemies. Politics didn't matter. Geography didn't matter. Regular season allegiances didn't matter. I think even a lot of Cleveland fans were probably secretly rooting for the Cubs. Okay, maybe not quite, but 108 years? Come on! It's about damn time! It's OUR time! And as we endured the rain delay before the 10th inning (Seriously?! More than a few of us needed to open an additional bottle of wine to make it through), then nervously cheered two more RBIs to put us ahead again, we held our breaths through two outs (Cubs fans at Progressive Field cheering so loudly that you would have thought the game was at Wrigley), a walk, and a solo homer for Cleveland that put 9 inch pits in stomachs across Chicagoland and beyond. And then… it happened: a grounder caught by a near giggling Kris Bryant, thrown to a beaming Anthony Rizzo for the out that was heard 'round the world!
Yes, I cheered. Of course, I cried. The Lovable Losers are no more! I said on Facebook that the 2016 Cubs will be like the '85 Bears – best ever until the day we die! This morning, Pat Tomasulo on WGN News made that same comparison, in that maybe those guys are a little less happy than the rest of Chicagoland because there go their long-term endorsements. Ha ha. The Cubs are the new, local sports heroes. Oh, and I cried again this morning after watching the new Cubs video for Eddie Vedder's All the Way. 
Lots has been said about the coincidental aspects of the number 108 this year: starting with 108  years since the Cubs had won a World Series, plus 108 being a sacred/mystical number in some Eastern religions as well as mathematics, 108 stitches on a baseball, the last Cubs World Series game win in 1945 happening on 10/8, and of course last night's win in the 10th inning with 8 runs.  No doubt about it – this has been one helluva special time.
So, in addition to my pledge to watch more games starting in 2017, I'm finally going to get The Girl to the Friendly Confines. It's long past time. I've wanted to take her ever since she was potty trained (because, really – who wants to change a diaper or have a little one wait in the crazy ladies' room line at Wrigley?). A Cubs game at Wrigley is just one of those Chicago experiences that I think everyone should have. It's just so iconic. So, as tough (read: expensive) as it might be to get tix (I'm not wasting time in bad seats), we're doing it.  And this house shall forever more be infected with Cubs fever.
I pledge allegiance to the Cubs
Of the north side of Chicago
And at the ballpark in which they play
We cheer from the Friendly Confines
With hot dogs and beer for all!
 – Deb Moran, 10.3.16